Dear Friend:

Looking for a golf product to sell immediately that will bring you in some extra cash? We have a super hot product in a scorching hot industry and now you can profit too.



Earn 75% on every customer you refer!


Join others who are earning extra cash each week by simply letting their website visitors and customers know about this new golf ebook. When people you refer buy Beginner's Guide to Golf, you'll make 75% per sale (even if it's 45 days later!) Here's how:
Step 1 - Sign Up
My affiliate program is handled by clickbank.com. They track sales and automatically pay affiliates. If you are already a clickbank.com member, click the link above.

If you are not signed up with Clickbank.com, you'll need to go there now and sign up as an affiliate.


Step 2 - Promote!
You're welcome to grab these banners to use on your site. Just copy and paste onto your website.




One good way to boost your sales is to write an honest book review or article.

If you are totally new to making affiliate sales, I recommend you get a copy of the Affiliate Masters Course. This is the top affiliate marketing course - and it's free!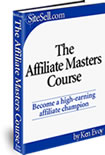 Get the Affiliate Masters Course Now